Nitanium Palatal Expander
Nitanium Palatal Expander2 Multi-Purpose Finishing Appliance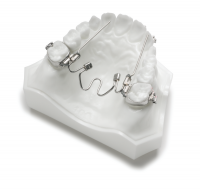 The easy to use Nitanium Palatal Expander 2 takes expansion a step beyond

This extraordinary expansion appliance has the capacity to rotate, upright, distalize, and expand the anterior and posterior arches with gentle biocompatible force.

The Nitanium Palatal Expander 2 Appliance's action is the result of transition temperature and shape memory. Warmth within the patient's mouth activates movement in the thermal nickel titanium energy wire toward the appliance's pre-programmed shape. This produces the desired expansion in unison with tooth movement.
Once the exact correction is achieved, the appliance stops expanding and lies passive.

The Nitanium Palatal Expander2 Appliance offers many benefits, including the following:

• Slower expansion has shown to lower incidents of relapse*
• Thermally-activated Nitanium for total control eliminating patient's compliance
• Ease of placement and removal by the doctor
• Ortholoy arms and loops provide adjustability for finetuning and finishing
• No laboratory work is required – available in 10 sizes
*"Slow and Continuous Maxillary Expansion, Molar Rotation and Molar Distalization" By Dr. Maurice Corbett •